Improve Your Outdoor Space with Lighting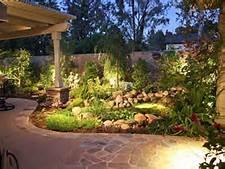 Improve Your Outdoor Space with Lighting
Outdoor lighting can enhance the features of your residential or commercial property by brightening it up during those beautiful starry nights. Even a little lighting will help you showcase just the right pop of color as well as improve the curb appeal of your yard.
Improving your outdoor space with lighting is not as expensive as some people may think and interestingly, it comes with a lot of advantages when you allow a lighting design electrician from Neighborhood Electric to handle it.
At Neighborhood Electric, we aim to use landscape lighting to add depth and dimension to the outdoor living spaces of our clients. We want your outdoors to be the cynosure of all eyes in the twilight and evening hours.
Depending on your preference and the statement you want to make to visitors, you can create subtle to bold or extraordinary feel of your outdoors. Additionally, you can improve both the aesthetics and security of your living space with outdoor lighting. However, professionals from Neighborhood Electric can help you achieve your desire by recommending the style, location, and type of lighting that will create just the right feel. So, call us today for your outdoor lighting needs.
Outdoor lighting options for every home and business location
There are two prominent reasons homeowners install outdoor lights for security and aesthetics. However, you can achieve both when an innovative electrician is handling the project. Whether it is to beautify your space or for security purposes, we have provided the tips that will help you save money and time.
How to improve the aesthetics of your outdoor with lighting
The beauty and functionality of landscape lighting can make any homeowner proud and here are ways to achieve the right curb appeal.
Highlight beautiful spots with accent lighting
Use accent lighting to showcase and lit up the gorgeous aspects of your landscape. You can use any type of accent lightings like lamps and pendant lights to beautify your space. Invite a professional at Neighborhood Electric to have a look at your outdoor. This will help us to create the right lighting design that will make your landscape more striking and attractive.
Install lighting at your driveway
Installing path/drive lighting will make your outdoors become appealing to the members of your household and visitors as well. Dont let darkness overwhelm anybody driving into your compound; instead use outdoor lighting to brighten up every corner.
Brighten up your pools and garden with patio lighting
Beautify your pools and give your guests an attractive and appealing view of the surroundings with the installation of the pool, patio lighting and uplighting for trees. Just light up those sensitive spaces and give a stunning look to your property.
Outdoor lighting for safety
Proper lighting choices and placement will make all the difference when it comes to the safety of your property.
Install floodlights for safety
The installation of floodlights illuminates your property and will help you move around safety even at midnights. It scares away intruders and burglars who are comfortable operating in a poorly lit environment. Therefore, you will boost both the safety and security of your outdoors when you make the right lighting choices.
Other ways to improve the security of your landscape is by the installation of motion lighting, and you can get affordable installations from us. Let's help you to illuminate your outdoor space call experts at Neighborhood Electric.