Whole House Surge Protection Installation in Babylon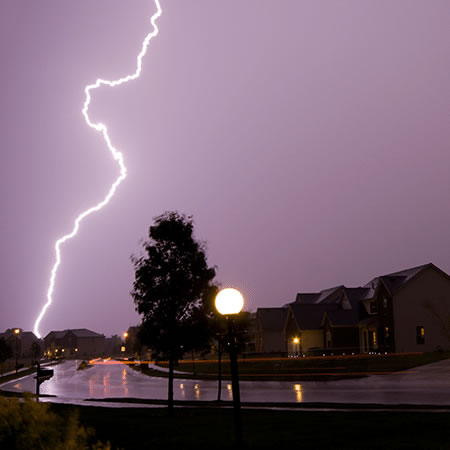 Whole House Surge Protection Installation in Babylon
Hurricane and lightning storm seasons are dangerous for electrical systems as they can cause large power surges. To protect your house, business, and electrical appliances and devices from damage, consider a whole house surge protection installation by the professionals at Neighborhood Electric in Babylon. A whole house surge protection installation in Babylon can protect appliances in your home from electrical spikes. Call us today to speak with a friendly staff member and learn about your options and promotional offers of power surge protectors and a Babylon whole house surge protection installation. We look forward to taking your call.
What Causes Power Surges?
While the first thing that comes to mind when we think of power surges is lightning strikes, there are more common causes. The larger power surges do come from lightning strikes and downed power lines, but they are fairly uncommon. However, when it does strike, you are going to wish you had a whole house surge protection installation. There are several sources of power surges including power outages, tripped circuit breakers, short circuits, power transitions, malfunctions at your power company, and more. Whats more worrisome is that power surges can happen so quickly that you dont notice what happened.
A Whole House Surge Protection Installation Can Save Your Devices
A power surge results in power spikes in any of your electrical devices. This includes your phone on charge, your computer, dishwasher, refrigerator, and more. Power surges can be dramatic and completely blow out your electrical device in one go. Surges can cause fried circuit boards on home appliances and electrical devices. However, a majority of power surges are small and inconsequential, but they can damage your devices gradually and shorten their lifespan. Investing in a whole house surge protection installation in Babylon can protect your appliances and devices from devastating damage. Interested in learning more? Call Neighborhood Electric today to review your options and schedule your flexible appointment.
Can I Do This Installation on My Own?
Considering the significance of power surge protectors, it is best that you have a licensed professional handle the installation. The electrical wiring is not only confusing but can be a safety hazard for untrained individuals. An improperly installed device could result in defects and damage to your property, potentially causing more damage than if not installed at all. For best results, consult a professional such as the experts at Neighborhood Electric. We have promotional offers, coupons, and competitive prices. Plus, considering the costs of replacing damaged appliances, a whole house power surge protection installation is a great investment.
Why Choose Neighborhood Electric?
Have you found yourself searching the web for power surge protection installer near me? Well, you are at the right place. Neighborhood Electric is your local Babylon power surge protection installer with emergency service, competitive prices, and licensed technicians. Call now for a free estimate. Remember, with Neighborhood Electric, all parts and workmanship are guaranteed. Plus, we vow to never charge overtime fees! What you are quoted is what you will pay.