Ceiling Fan Installation in Shirley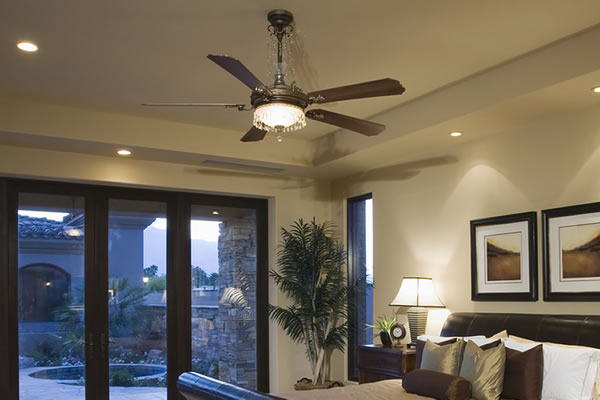 Ceiling Fan Installation in Shirley
Ceiling fans are timeless fixtures that combine art and function to freshen, enlighten, and add a touch of decoration to your rooms. If you are looking to get some circulation going in your home or business while also saving money on cooling costs, a ceiling fan installation in Shirley is a great way to improve your home. Neighborhood Electric is honored to be a trusted, reliable, and affordable service provider in the community. We look forward to your call and helping you add a unique touch to any or all of your rooms.
The Benefits of a Professional Ceiling Fan Installation
A ceiling fan is a stylish as well as a practical addition for your home. As an inexpensive alternative to turning on your air conditioner for cooling, a ceiling fan can save you hundreds on cooling costs over the year. Call Neighborhood Electric today and ask about how ceiling fans with the Energy Star label can save you even more with their scientifically engineered efficiency.
As you may know, ceiling fans come in shapes, sizes, and colors with varying intricacies to add some glitter and glamor to your living spaces, bedrooms, or kitchen. As a locally owned and operated business, Neighborhood Electric has years of experience in the industry and area. Our friendly staff and professional experts can help with a ceiling fan installation or ceiling fan replacement of all kinds.
Many ceiling fans come with attached lighting to provide your environment with an extra layer of lighting. Whether your room is too bright or needs some extra brightness, a ceiling fan can help fill in the blank. Contact our location today to schedule your appointment and witness the exceptional customer service of Neighborhood Electrics.
Ceiling Fan Replacement in Shirley
Put Your Trust in The Experts
A ceiling fan replacement or ceiling fan installation in Shirley is a physical task that requires a thorough understanding of electrical systems. This work does pose great risk of personal injury and property damage, so we do not recommend it be done by amateurs that are ill-equipped. Performing electrical work such as a ceiling fan installation may also give you some headaches when dealing with home insurance claims.
Looking for a ceiling fan installer me? Put your trust in the experts. At Neighborhood Electric, our electricians are licensed, certified, background checked professionals with your best interest mind. We have trained and hired our electricians to provide exceptional customer service. As a sign of our gratefulness for accepting us into the Shirley community, we want to extend an offer: call us today and get 10% off on your first electrical service of $500 or more.
Call Anytime! We Offer 24-Hour Emergency Services
Were you enjoying a pleasant dinner before your ceiling fan gave you issues? No worries. With Neighborhood Electric, you can get a ceiling fan repair at any time of the day or night. We understand that emergencies happen, which is why we offer our services around the clock. Have no fear, you have Neighborhood Electric by your side at all times.
Do You Offer Ceiling Fan Installation Near Me?
Do you need a ceiling fan installation or ceiling fan replacement in Shirley? Neighborhood Electric is your professional service provider to call. With Neighborhood Electric, a Shirley ceiling fan installation has become more simple, affordable, and reliable. After years of experience, we are proud to serve all areas of Shirley. Give us a call today and we will have an expert dispatched as soon as possible.