Tips for Electrical Appliances to Last Longer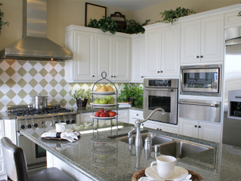 Tips for Electrical Appliances to Last Longer
You are probably spending thousands on your appliances from the laundry machine and dryer to the refrigerator and dishwasher, so it is natural to want that investment to last as long as possible. A little bit of routine maintenance, mindful usage, and regular cleaning can go a long way in stretching the life expectancy of your electrical appliances. Neighborhood Electric is happy to share some general tips on making your appliances last longer but refer to your appliances user guides and manuals for specific tips. Give Neighborhood Electric a call if you suspect your appliance needs electrical work. Our insured electricians are always ready to help.
The Washing Machine
Imagine hand-washing all of your clothes, linens, and covers. Fortunately, those days are over, and the washing machine can take care of the dirty work. If you want to continue taking advantage of this convenience, then:

Do not overload the washing machine and make sure clothes are evenly loaded. Overloads and uneven loads can burn up the motor faster.
Remove loose items from pockets and clothes. Pens, coins, and belts can strike against the drum and damage it. A damaged drum will shorten the life of the machine and even cause wear and tear on your clothing.
Replace the fill hoses once every several years about 4 to 5 years. Worn hoses can tear and burst.

The Clothes Dryers
The dryer gets amazingly hot. In fact, thousands of home fires are caused by clothes dryers each year! Some maintenance can reduce the risk of such fires and even save on energy bills:

Clean the lint trap after every load and, when vacuuming your home, make it a habit to vacuum out the space where the lint trap goes.
Clear out the lint hoses behind the dryer on a regular basis, about once a season. This can reduce the risk of burning out the motor and wasting energy.

The Refrigerator
A faulty refrigerator can cause all sorts of problems. It can waste energy, spoil food, and make the kitchen stink. Consider these tips:

Defrost the freezer if your model does not do this on its own. Never let ice buildup get more than inch thick.
Once a year, unplug the refrigerator and turn off the water lines, then vacuum the condenser coils.
Clean the seal around the refrigerator door. Spills and crumbs can limit how well the door seals to keep the cold air in.
Clean drip pans and drip openings, keep appropriate temperature settings, and replace water filters routinely.

The Dishwasher
You want the dishwasher to be at its best so that you get clean, sanitary silverware and glassware. So:

Remove and clean the filter of grime and food weekly.
Clean the door and seals to prevent leaking and grime buildup.
Wipe down the spray arm with a damp towel and clear blockages with a toothpick every six months.

Call Neighborhood Electric
Are you having issues with your electrical appliances electrical components? Call Neighborhood Electric to have a nearby electrician take a look.